A3K NETWORK:

The A3K Network features a collection of podcasts with their own unique personality and flare. The network started in August 2008 with the A3K Podcast. In the Spring of 2009, the A3K Panel debuted, which eventually led to the Speakeasy Podcast in 2010. Later we introduced the Bonus Round, Method to Madness, A3K Radio, 2 Guys and a Mic, Manga Corner and The Other Side.
The A3K Podcast is the flagship podcast of Anime3000.com. It was started on August 03, 2008 by Sean Russell and Andrew Choi.  The show is a weekly gathering of A3K personalities to discuss a variety of anime series, topics and our responses to fan questions. Learn more about the A3K Podcast.
The Other Side takes a more cynical approach to anime podcasting. Each week they scour the Internet to expose what they would call the most embarrassing parts of the fandom. Some of their topics have included: Furries, Bronies, Lolicon and the list goes on. Click to learn more about TOS.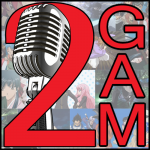 2 Guys and a Mic is a weekly anime podcast that features tons of humor, pop culture references and loads of inside jokes. The podcast was created after Sean Russell met Jahmere Durham at a local anime club. Check 2GAM out every Monday on the A3K Network. Click to Learn more about 2 Guys and a Mic.
A3K Panel with Sean Russell is showcases numerous bloggers, podcasters and experts from anime and manga. It originally started as the replacement for the A3K Podcast in 2009. Panels have featured anime directors, popular series, conventions, controversial topics and much more. Click to learn more.
Manga Corner features Jd Banks and Colton Solem as they spotlight popular and underground and popular titles; and speak with special guests. Jd also shares her experience as an American currently living in Okinawa Japan. Click to learn more about the Manga Corner.
Bonus Round  features a host of personalities reviewing popular and obscure anime and manga title. It also features interviews with actors and other industry professionals. Consider it an all-star showcase of amazing podcasters. Click to learn more about the Bonus Round.
A3K Radio showcases a collection of musicians, professionals, voice actors, cosplayers, bloggers, podcasters and anime fans. It started in October 2011 and featured interviews with a number of high profile guests. Click to learn more about the A3K Radio.